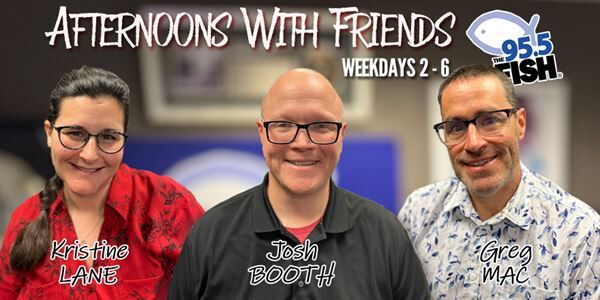 Spend your Afternoons with Friends! Josh, Greg & Kristine will bring encouragement and a smile your favorite Fish Music and conversation.
---
Kristine Lane loves spending time playing with her son and going to watch the airplanes take off from Hopkins airport. She grew up in Lakewood, Ohio and graduated from St. Augustine Academy. She holds a Bachelor degree in Communications Media from Heidelberg University.

Kristine will be the first to tell you that being in radio is not where she intended to be. She wanted to work in a television newsroom. But 15 years ago God showed His plan for her and she began her career with 95.5 The Fish!
---
Greg Mack has been a self-proclaimed Comic Book Geek ever since he donned his first pair of Incredible Hulk Underoos at age four. He grew up in Painesville, Ohio and graduated from Harvey High School in 1992.

Greg's interest in radio and music began when he dj'ed his own Homecoming dance his sophomore year in high school. After years of pushing pencils and copy machines at a local office retailer, Greg decided to dive right into radio. He worked briefly as an intern for Mix 106.5 before an opportunity popped up at 95.5 the Fish.

Greg is an avid cyclist who completed the 328 mile Pan Ohio Hope Ride from Cleveland to Cincinnati to benefit the American Cancer Society.
---
Spend your afternoons in The Fish Bowl! Josh, Greg & Kristine will bring encouragement and a smile to your face with your favorite fish music and conversation.