Nathaniel's Hope Make 'em Smile 2023
11:00 AM - 3:00 PM on Saturday, July 8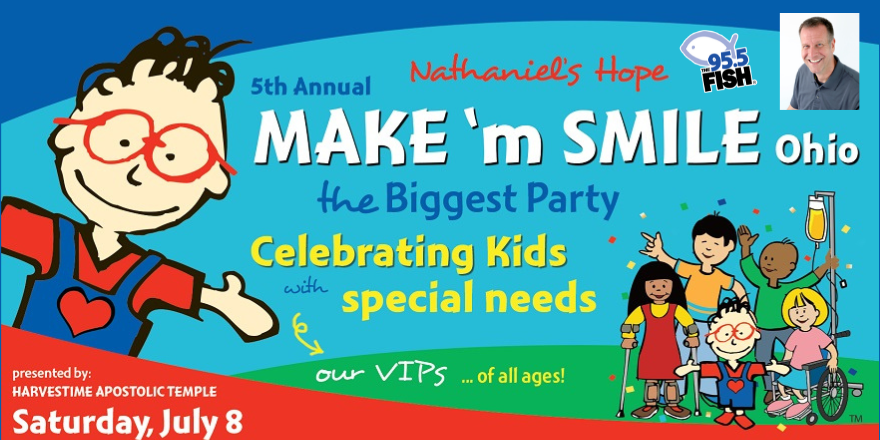 JULY 8th, 2023
11am - 3pm
Come as a VIP
Be our honored guest!
VIPs are individuals of all ages with any physical, cognitive, medical, or hidden disability, chronic or life-threatening illness, or those who are medically fragile.
Make 'm Smile is a party to honor and celebrate people with all types of special needs – our VIPs.
This event is FREE, but registration is required. Please visit www.makemsmileohio.org and scroll down to the Ohio Banner for registration information.*
*All registrants also qualify for fun program benefits such as Birthday club gifts!
The Fish and Len from The Fish Morning show will be there from noon till 2pm.
Hartville Memorial Park
335 Park Lane Dr. SW Hartville Ohio 44632
(Please use 225 Lincoln St. SW, Hartville OH for GPS Location)
To register to be a Sponsor, Resource Exhibitor, Smile Maker, or Volunteer, please visit: makemsmileohio.org
If you would like to make a donation for this wonderful event, you may do so at www.paypal.com/paypalme/MakeMSmileOhio
Location:
Hartville Memorial Park
Menlo Park St SW
Hartville, OH 44632
Google Map