Cuyahoga Valley Christian Academy Community Open House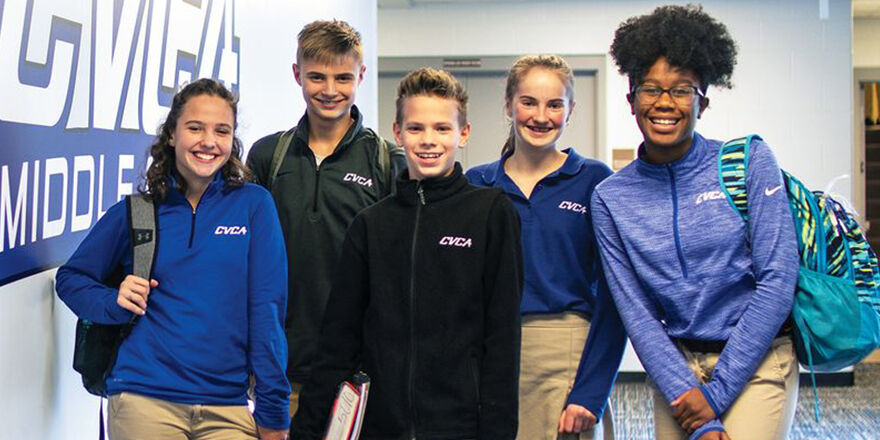 6:30 - 8:00 PM on Tuesday, October 29
More Than An Education
At CVCA, you will explore what it means to live a life of excellence. Whether it be in your studies, relationships, community, or in your faith – together we will grow in what it means to Excel Still More.
Discover how CVCA offers "more than an education" at one of our upcoming Admissions events:
Welcome! Because a visit to CVCA is your best chance to get to know our community, we'd love to have you walk our halls.
Cuyahoga Valley Christian Academy is a private, college-preparatory, non-denominational Christian middle and high school filled with students who meet rigorous admissions standards both academically and spiritually. We serve 841 students in a 145,000-square-foot building with state-of-the-art technology, 7 science labs, 2 gymnasiums, a 600-seat chapel/auditorium, and 70 acres of sports facilities, including a turf stadium and all-weather track.
6-12th-grade college prep, interdenominational school, representing over 200 churches and 8 different counties with nearly 100% of our students are accepted into 4-year college programs.
Community Open House: Friday, October 18, 5:00-7:00 p.m.
Prospective Parent Night (Middle & High School): Tuesday, October 29, 6:30-8:00 p.m.
Location:
Cuyahoga Valley Christian Academy
4687 Wyoga Lake Road
Cuyahoga Falls, OH 44224
Google Map
(330) 929-0575