Mediterranean Chickpea Pasta Salad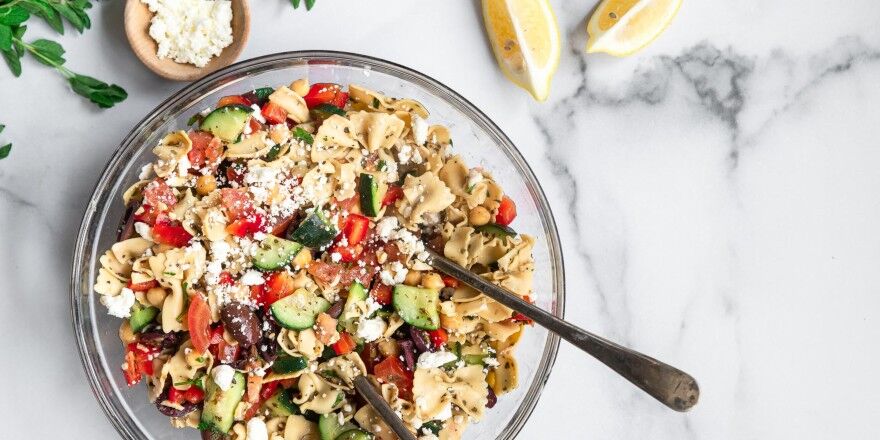 By Taylor Kiser, FoodFaithFitness.com
This Mediterranean Chickpea Pasta Salad is an easy, vegetarian main dish or side dish that is loaded with plant protein and big, Greek flavor!
Are you sick of Mediterranean recipes yet? I hope not because they are some of my favorite flavors.
I could rotate between Mediterranean grilled stuffed peppers, Mediterranean tuna salad with olives and Mediterranean low carb broccoli salad every day for every and be one happy women….as long as you add THIS pasta salad!
This salad is loaded with creamy feta, crunchy cucumbers, juicy tomatoes, salty olives and this smooth and tangy lemon dressing that is just, GAH, SO GOOD. Especially as the salad sits in the fridge and all the flavors get nice and cozy.
Yep, it's going to be a must make at your upcoming dinners, potlucks and meal prep Mondays (which just so happens to be today.)
ARE CHICKPEAS HEALTHY?
If I'm going to make a vegetarian dish, I want to make sure it's just as filling without animal products as it would be with them! No meat? NO PROBLEM! I love to use chickpeas for added nutrients in my dishes because they add flavor, texture, and nourishing goodness and you're going to LOVE them in this Pasta salad with chickpeas and feta!
A few dishes I LOVE that use chickpeas are Honey Garlic Roasted Chickpea Wraps, Mediterranean Grilled Avocado stuffed with Chickpeas and Tahini and Spicy Hummus Roasted Chickpea Bites. As for health benefits to chickpeas, there are so many, which is another reason why they are a staple in my kitchen:
Nutrient Dense: chickpeas have a lot to boast about, as they include important nutrients like fiber, folate, phosphorus, Iron, copper, and manganese.
Protein Packed: chickpeas are rich in plant based protein, which makes them a great meat substitute for vegetarians and vegans.
Promote Fullness: Chickpeas slow digestion, satisfying your body and keeping you full for a while!
Disease Fighting Properties: the vitamins and minerals in chickpeas give your body a leg up in helping to prevent certain diseases such as heart disease, diabetes and cancer.
PROTEIN PACKED GOODNESS!
Why is this pasta salad with garbanzo beans an AMAZING choice for vegetarians (and even non vegetarians)? There are SO many reasons why I am a huge fan of this salad, one of them being the protein in the recipe! This pasta is made from chickpea pasta which is protein packed all on its own.
On top of that, it also has whole chickpeas and feta cheese. This makes it an vegetarian protein POWERHOUSE and a great choice for lunch or breakfast! It's going to taste delicious AND keep your belly full and satisfied!
Mediterranean Chickpea Pasta Salad Ingredients
When it comes to meals, I love the ones that use a simple ingredients list of whole foods that are healthy and that I recognize and want to eat! This Mediterranean pasta salad recipe hits the mark, and here's what you'll need to make it:
Chickpea Pasta

Fresh minced parsley

Dried Oregano

Dried Basil

Diced Cucumber

Diced Red Bell Pepper

Cubed Roma Tomatoes

Chickpeas

Feta Cheese

Kalamata Olives

Minced Red Onion

Salt

Fresh Lemon Juice

Extra Virgin Olive Oil
Prepare
Cook the pasta according to the package directions. Drain and pour into a large bowl.
Stir
Add the parsley, oregano and basil to the cooked pasta and stir until evenly coasted. Next, add all the other ingredients to the bowl other than the lemon juice and olive oil and stir until combined.
Whisk
In a small bowl, whisk the lemon juice vigorously while slowly streaming in the olive oil, until the two are well combined. Pour over the pasta salad and mix to coat!
Enjoy
Cover with plastic wrap and let your pasta salad chill in the fridge for at least an hour. Next, serve it up and enjoy!
Pasta Salad Pro Tips
I know how hard it can be to skip a step of a recipe that doesn't seem important because you're just so HANGRY and want to eat the food now. HOWEVER, one step you don't want to skip in this recipe is the fridge chilling. It's so important to let your pasta salad chill in the fridge for at least an hour to allow the flavors to meld together and the pasta to fully cool!