Success from 'I Can Only Imagine' Movie Continues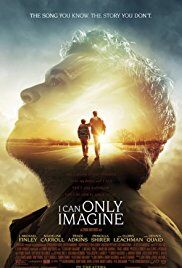 I Can Only Imagine is based on the true story of the life of Bart Millard, the frontman of Christian band MercyMe. The film tells the story of how Millard came to write the smash hit "I Can Only Imagine," which topped both Christian and secular music charts.
The impact on the culture from the box office surprise, I Can Only Imagine is now about to go even deeper, as various study, group, and children's resources hit the marketplace.
Fans and movie-goers alike can dive deeper into this inspiring true story, and analyse God's power and grace to redeem. The I Can Only Imagine study materials include a small group study, a study journal, a youth ministry study - even a children's picture book.
It goes without saying that the movie soundtrack and most recent CD's of MercyMe are doing exceedingly well in sales.

But where does the movement go from here? Might there be a follow-up to this life-changer? We can only imagine.....