Music Review: Newsboys Bring Beloved Hymns to a New Generation of Fans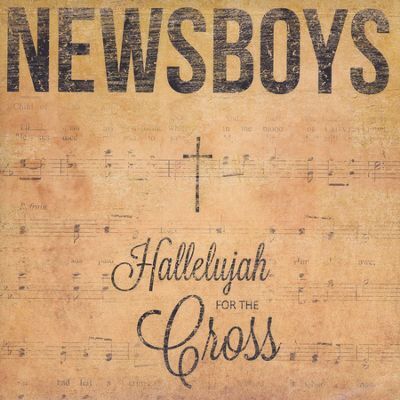 By Lindsay Williams
Like Christmas records, if a Christian artist is fortunate enough to have a long career, a hymns project often becomes a natural creative endeavor at some point, especially for those artists who grew up in church. For Newsboys frontman Michael Tait, hymns take him back to the wooden pews of the Baptist church where he first learned about Jesus. The Newsboys' latest project, Hallelujah for the Cross, will transport many listeners to the churches of their youth. For others, this album will allow them to experience these songs for the first time.
From the opening notes of "All Creatures of Our God and King" to the last bars of "All Hail the Power of Jesus Name," the Newsboys successfully reboot nine timeless hymns and one original, delivering each track in a shiny new setting and infusing every cut with infectious energy. In fact, the track listing proves so modern that Hallelujah for the Cross could easily be mistaken for a regular Newsboys studio effort. Seth Mosley—the producer behind the group's most recent outings, God's Not Dead and Restart—helmed the project, inevitably lending a youthful energy. While the album flows cohesively from front to back with a buoyancy carried by electric guitars, drums and Tait's crisp, unmistakable vocals; these songs fit comfortably into Newsboys' discography. Tait & Co. will have no trouble seamlessly integrating these worshipful additions into their live set.
The title track, written by Ross King and Todd Wright, reveals a strong, triumphant chorus that begs for corporate worship as Tait sings, "Hallelujah for the war He fought / Love has won / Death has lost / Hallelujah for the souls He bought / Hallelujah for the cross."
Astute fans will instantly recognize the "Where You Belong / Turn Your Eyes Upon Jesus" medley from the Newsboys' fourth studio album, Not Ashamed. The tune was one of the first of many tracks co-written by then frontman Peter Furler and Steve Taylor.
The band's reimagined versions of "All Creatures of Our God and King," "Jesus Paid It All" and "What a Friend We Have in Jesus" reveal the intentional creativity poured into this record. While the original arrangements at the core of each song remain untouched, the sonic embellishments and supplementary hooks scattered around the central melodies modernize each hymn in a way that's reverent yet relevant.
"All Hail the Power of Jesus Name" is the only cut that strays from the band's trademark pop sensibilities, instead offering majestically layered vocals entirely a cappella—a fitting close to an album that's more than simply a "filler" worship effort. It's evident Newsboys set out to honor the songs of their upbringing, while also putting their unique stamp on every cut. While not groundbreaking, Hallelujah for the Cross provides a refreshing take on well-known classics that will give a whole new generation the opportunity to discover and appreciate these important songs of faith.
*Published 11/18/2014
;