Fish Secret Sound - Fan Club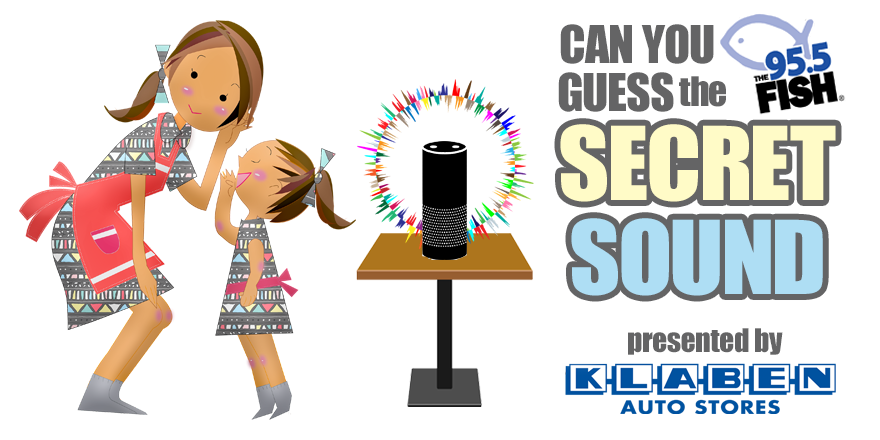 Every weekday Len, Sara, and Joe will give you a chance to guess the Secret Sound and Win Cash. We'll start with $95. And with every wrong guess, we'll add another $9.55.
Our sound guy - Blakemore picks the sounds and he is the only one who knows the answer, but will give Len, Sara & Joe clues to pass on to you.
Who could use a little extra cash? Thanks to The Klaben Auto Family.
Must be 18 or older to play
To hear the Secret Sound, see the list of incorrect guesses and clues anytime of day log in to your Fish Fan Club account. Not a member...sign up now!
Listen during these times for your chance to win:
| Date | Time #1 | Time #2 | Time #3 |
| --- | --- | --- | --- |
| Monday, May 16 | 7:00 - 8:00 AM | 9:00 - 10:00 AM | 5:00 - 6:00 PM |
| Tuesday, May 17 | 6:00 - 7:00 AM | 3:00 - 4:00 PM | 4:00 - 5:00 PM |
| Wednesday, May 18 | 8:00 - 9:00 AM | 4:00 - 5:00 PM | 5:00 - 6:00 PM |
| Thursday, May 19 | 6:00 - 7:00 AM | 8:00 - 9:00 AM | 4:00 - 5:00 PM |
| Friday, May 20 | 7:00 - 8:00 AM | 3:00 -4:00 PM | 5:00 - 6:00 PM |