Thrivent - Living A Life Of Significance
8:00 - 10:00 PM on Thursday, February 4
Join the Thrivent Member Network for an Exclusive Online Event,
Living A Life Of Significance with Athlete, Media Icon and Philanthropist, Tim Tebow.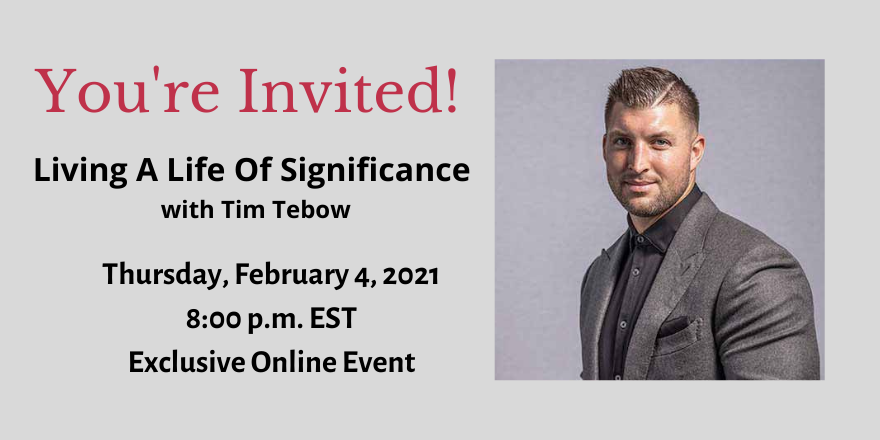 During this event, Tim will inspire you to ignite your passion and live your purpose by discovering your true identity.
The Three Time New York Times Bestselling Author will share his fundamental, personal beliefs about success, faith, hard work, and perseverance.
This Exclusive Online Event is Thursday, February 4, 2021 at 8:00 p.m. EST
About Tim Tebow
Tim Tebow, born in the Philippines to missionary parents Bob and Pam Tebow, is an American professional baseball player, former professional football player, Three Time New York Times Best-Selling Author, international speaker, and ESPN sports broadcaster. He played college football for the University of Florida, and in 2007 became the first player to win the Heisman Trophy as a sophomore. Tim is also a Two Time BCS National Champion. In the NFL, Tim played for the Denver Broncos, the New York Jets, the New England Patriots and the Philadelphia Eagles. He is currently playing baseball as an outfielder and designated hitter with the New York Mets MLB team.
No products will be sold. Tim Tebow is not affiliated with or endorsed by Thrivent. The views expressed in this presentation by Tim Tebow are his own and not necessarily those of Thrivent or its affiliates. The material presented has been obtained from sources we believe to be reliable and is current.