Jordin Feliz: The Faith Tour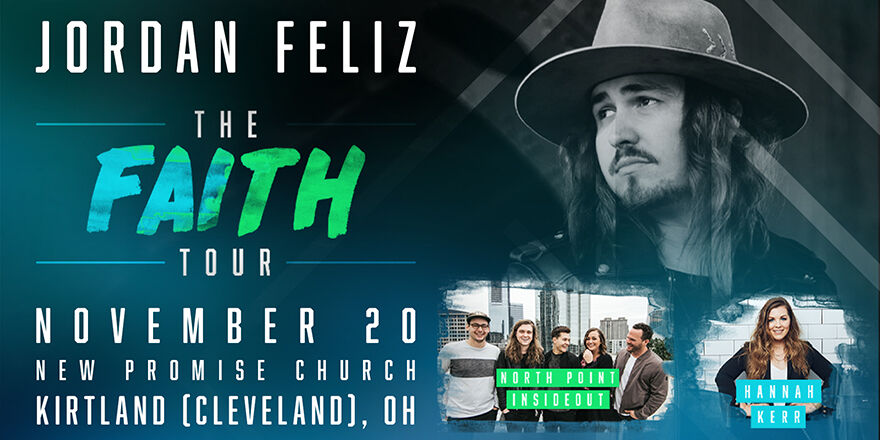 7:00 PM on Wednesday, November 20
Jordan Feliz belts out "Witness" to a roaring crowd
"Your love is moving mountains every day of my life. Can I get a witness?"
Hands shoot up, voices join in, souls worship. Jordan beams. It's the smile of a heart that knows it's landed in the hands of its Protector. The smile of a heart, fearlessly honest, that is connecting with others. A heart that's traveled through uncertainty, and probably will again, but will always find home in the story already written for it.
Jordan listens to the new record, the latest season of his life in musical form. Those early doubts have transformed into peace. The shame into compassion. The worry into joy, and the fear into excitement.
"Probably craziest of all is that I didn't see any of it coming together at beginning. I thought 'There's no way this is going to get done and I'm going to be able to handle it,' and it just happened. This entire project comes down to the fact that every day I'm learning how to trust God more and more and more."
He doesn't know how the next chapter reads. But he knows something more important: the Author.
"Every time I think about the concept of this record, it feels like it's purposeful for people to grab onto the idea of a song and hold onto it for a very long time. That's what it stands for. It stands for what's coming. It stands for what God has for our life."
---
Tickets
Additional taxes & fees may apply
VIP: $50
VIP ticket includes a pre-show photo opportunity with Jordan Feliz and first entry into the venue for access to the best seats. Doors open at 5:15pm. Photo opportunity begins at 5:30 pm. Concert begins at 7:00 pm. All seating is general admission - first-come, first-served. Must arrive before 6:00 pm to receive first entry.
Early Entry: $30
Want to beat the rush and get early access to great seats? This is the ticket for you! Doors open at 6:00 pm. Concert begins at 7:00 pm.
General Admission: $19.95
Seating on a first-come, first-served basis. Doors open at 6:15 pm.
Group 4-Pack: $14.95/ticket
---
Location:
New Promise Church
8671 Euclid Chardon Road
Kirtland, OH 44094
Google Map
(440) 256-3705