Fish Ladies Night Out - An Evening with Jo Dee Messina
6:00 - 9:00 PM on Sunday, May 7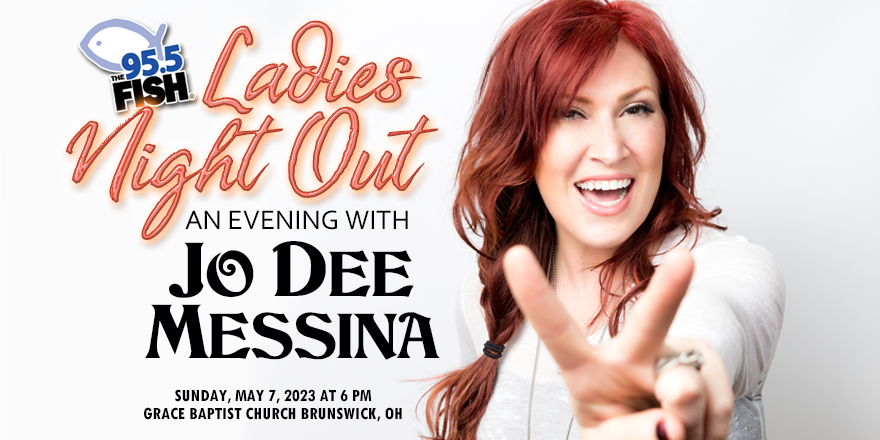 95.5 The Fish presents
An Evening with Jo Dee Messina
Get the girls together for music, inspiration and some laughs at the 95.5 The Fish Ladies Night Out event.
Jo Dee will play an acoustic set of her new Christian songs and some of her hits as she shares her testimony of her encounter with Jesus.
Sunday, May 7th @ 6:00pm
Grace Baptist Church
Brunswick, Ohio
Jo Dee Messina kicked off her notable career with "Heads Carolina, Tails
California," a single that immediately made her a household name.
Following the success of her debut, Jo Dee posted nine No. 1 hits and
sixteen Top 40 songs and was honored by the ACM Awards, CMA Awards,
and GRAMMY Awards. As Jo Dee's résumé grew, she proved to be a
trendsetter and history-maker, becoming the first female in country music
history to celebrate three consecutive multi-week, chart-topping songs.
Under her initial record label, Jo Dee released four full-length albums, one
Christmas record, two Greatest Hits collections, and three EPs. She then
parted ways with her long-time label and created Dreambound Records
and its corresponding touring company, Dreambound Enterprises. Under
Dreambound, Jo Dee has independently released one full-length album
and three Christian/worship singles.

Location:
Grace Baptist Church
3480 Laurel Road
Brunswick, OH 44212
Google Map
(330) 225-4366