8:00 AM on Saturday, September 10 - 11:00 PM on Thursday, September 15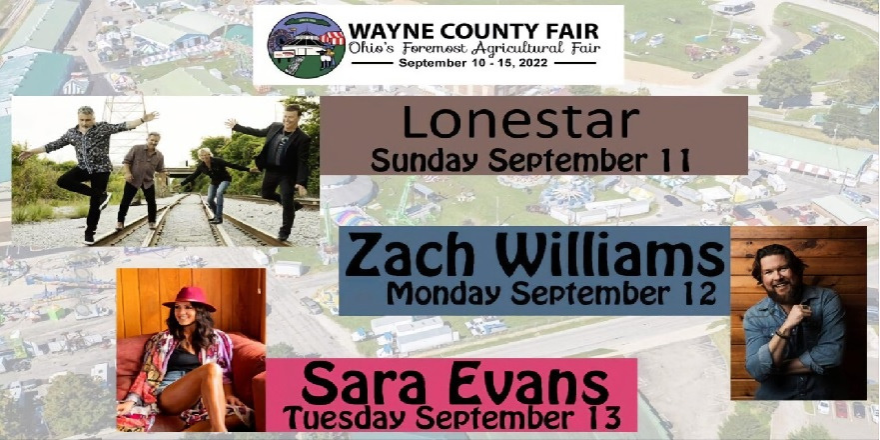 IT'S OHIO'S FOREMOST AGRICULTURAL FAIR .... THE WAYNE COUNTY FAIR! AND IT'S ALL HAPPENING SEPTEMBER 10th THRU THE 15TH AT THE WAYNE COUNTY FAIRGROUNDS!
BRING THE WHOLE FAMILY FOR FAIR FUN AND GREAT MUSIC!
This year's line-up includes…
THE OSTPA TRUCK/TRACTOR SEMI PULLS on SATURDAY SEPT 10TH.
On SUNDAY SEPT 11TH IT'S Lonestar..
Zach Williams will be live on stage Monday the 12th!
Sara Evans on TUESDAY SEPT 13TH!
WEDNESDAY, SEPT 14TH IT'S THE BUCKEYE RODEO…
AND FINISHING IT ALL OFF ON SEPT 15TH IT'S THE WORLDS LARGEST DEMOLITION DERBY!
TICKETS ARE ON SALE NOW! FOR MORE INFORMATION AND TICKET PRICING LOG ON TO WAYNECOUNTYFAIROHIO.COM.
Location:
Wayne County Fairgrounds
199 Vanover St
Wooster, OH 44691
Google Map