8:30 AM - 11:00 PM on Saturday, December 2
10:00 AM - 2:00 PM on Sunday, December 3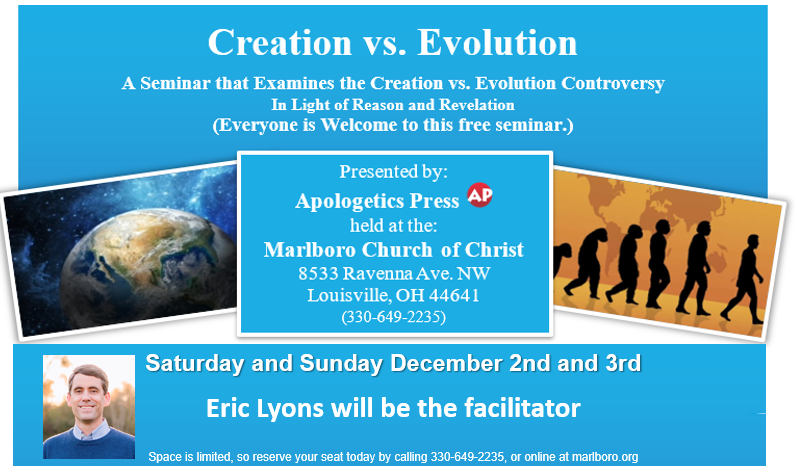 You are invited to "Creation vs. Evolution" a FREE seminar that will examine the Creation vs. Evolution controversy on Saturday and Sunday December 2nd and 3rd at Marlboro Church of Christ in Louisville.
Eric Lyons will be the facilitator. He is a graduate of Freed-Hardeman University and co-author of more than 20 books. Eric loves to teach and preach about the fundamentals of Christianity.
Saturday's seminar begins at 8:30 am and will feature presentations that will investigate the laws of science and what they have to say about creation and evolution. Plus, what do the Bible, history, and true science have to say about the one-time co-existence of dinosaurs and humans?
Then on Sunday, Eric will answer the questions…do the "proofs" of evolution really prove evolution, or have millions been duped by evolutionary hoaxes, and did God create the Universe and everything in it "in six days" or "six billion years"? How does the Bible answer this question?
The event is free, and everyone is welcome.
Space is limited, so reserve your seat today by calling 330-649-2235, or visit them online at cofcmarlboro.org.
Location:
Marlboro Church of Christ
8533 Ravenna Ave NE
Louisville, OH 44641
Google Map