Music Review: Favorites and Two New Tracks on Newsboys' Hits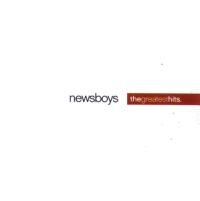 By Kevan Breitinger


Ah, those Newsboys. They do like to keep the surprises coming, don't they? They're still touring in support of 2006's Go, and working on next fall's next studio release, but here comes a second hits package. Actually, this is more Sparrow's idea than that of the popular Aussie pop-rockers, but who really cares when its been seven years since the last hits album?
Hits gives listeners the opportunity to pick up new favorites from previous albums Thrive and Go, projects more popular than their two worship albums, Adoration and Devotion, although the percolating, island-flaired "He Reigns" does make the cut. Hits also includes two new tracks, one of which opens the album.
A sly ode to the art of songwriting, the cleverly-titled "I Fought the La" features those classic infectious Newsboys beats, with a dash of ironic humor. This track and the more serious "Stay Strong," glimmering with melodic guitar lines and an encouraging message, are the first tracks recorded since bassist Phil Joel left the group to form his deliberatepeople ministry. Front-man Peter Furler and keyboardist Jeff Frankenstein now cover bass in the studio, while Frankenstein picks up the slack on stage via the keyboard's low end. I can't say that Joel's absence is a problem.
It wouldn't be Newsboys without pointed spiritual themes sheathed in well-crafted humor. To that end, Hits serves up the bouncy "Breakfast," where cereal lovers contemplate a complete absence of cereal in hell. And longtime Newsboys friend Steve Taylor makes a guest appearance adding vocals to a whistling, popping "In the Belly of a Whale," first heard on the VeggieTales Jonah movie soundtrack.
Fans will be happy to see the inclusion of favorites like the exuberant "Wherever We Go," pop-fest "Something Beautiful," and the irresistible "Take Me to Your Leader." I was happy to find the bass-driven, nuanced "Real Good Thing" and the slightly funky "Spirit Thing." The project closes out with a surprising closer, "I'm Not Ashamed." Not everybody likes greatest hits projects; most of us just want the new songs. I guess they serve a purpose. Or at least the labels seem to like â em. But in this case, a good time was had by all.
Don't wait to get this great CD! Order it right now from our eStore - with listening samples!
http://www.forfamily.com/product.asp?sku=5557558586
_____________________________________________________________________________
© 2007 CMCentral.com. All rights reserved. Used with permission.

Visit CMCentral.com now and join the single largest online community of Christian music fans on the internet. CMCentral features daily music news, exclusive interviews, album reviews, weekly devotions and feature articles written by some of your favorite Christian artists, and much more. CMCentral is also the home of the most popular Forum for Christian music fans that you'll find anywhere on the Internet. Come see what all the buzz is about!